Article Published On
07/10/2021

Estimated Reading Time
5 minutes read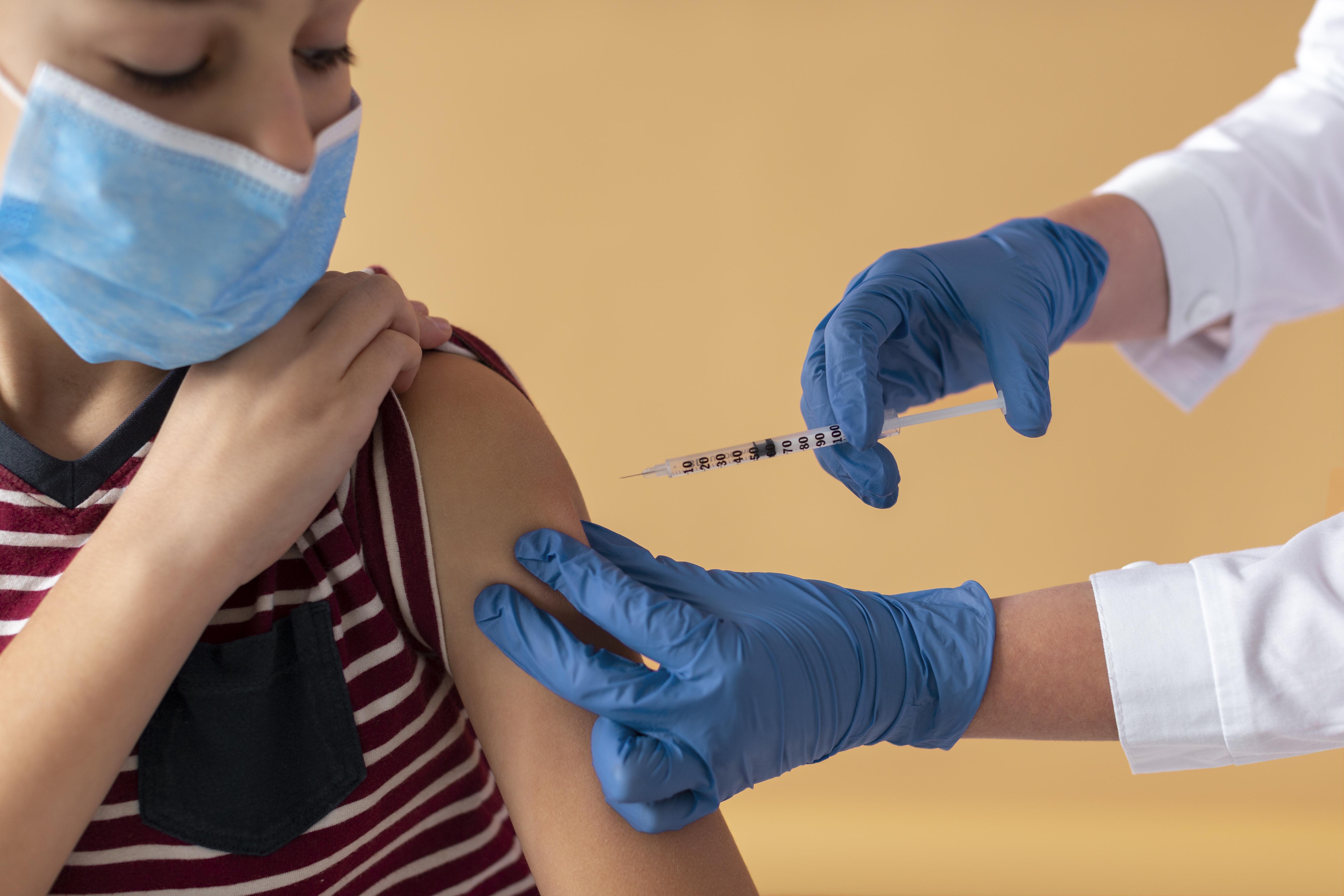 Can my child get a COVID-19 vaccine?
Yes, if he or she is age 12 or older. The U.S. Food and Drug Administration (FDA) and the U.S. Centres for Disease Control (CDC) have granted emergency use authorization (EUA) for several COVID-19 vaccines. The EUA means that these organizations have reviewed clinical trials data and determined that the vaccine is safe and effective. Currently, the Pfizer COVID-19 is authorized for use in children above 12 years old.
Experts believe that there are many benefits:
The vaccine helps prevent children from getting COVID-19: Although COVID-19 in children is sometimes milder than in adults, some children can get severe lung infections, become very sick and require hospitalization. Children can also have complications such as multisystem inflammatory syndrome which may require intensive care or long-lasting symptoms that affect their health and well-being. The virus can cause death in children, although this is rarer compared to adults.
The vaccine helps prevent or reduce the spread of COVID-19: Like adults, children can also transmit the coronavirus to others if they're infected, even when they have no symptoms. Getting the COVID-19 vaccine can protect the child and others, reducing the chance that they transmit the virus to others, including family members and friends who may be more susceptible to severe consequences of the infection.
Getting vaccinated for COVID-19 can help stop other variants from emerging: Since the beginning of the pandemic, the SARS-CoV-2 coronavirus that causes COVID-19 has mutated. One of these variants, the delta variant, is more contagious than earlier versions of the coronavirus. Cases of COVID-19 are increasing among children, and the delta variant appears to be the cause. Reducing viral transmission by getting vaccinated also reduces the virus' chance to mutate into new variants which may be even more dangerous. However, incomplete vaccination, meaning not getting the 2nd shot (for a vaccine that requires 2 shots), does give variants a chance to emerge.
COVID-19 vaccines help protect the community: Another reason to strongly consider a COVID-19 vaccine for your child is to protect the health of those living and working in your area.
Each child or adolescent infected with the coronavirus can transmit the virus to others in the community.
If this happens some of the infected people will become quite sick themselves or further spread the virus to others who will become very sick, and maybe even die — all because of a preventable infection.
This transmission also provides a chance for the virus to mutate further and create a new variant that might be more infectious or resistant to the available vaccines and therapies.
Fewer overall infections among the population mean less chance of severe infection and death in the community and of dangerous coronavirus variants emerging.
Your child may have some side effects, which are normal signs that their body is building protection.
Common side effects for teens and adults according to the CDC includes:
Fatigue (feeling of constant tiredness or weakness)
Headache
Muscle pain
Chills
Fever
Nausea (feeling of vomiting)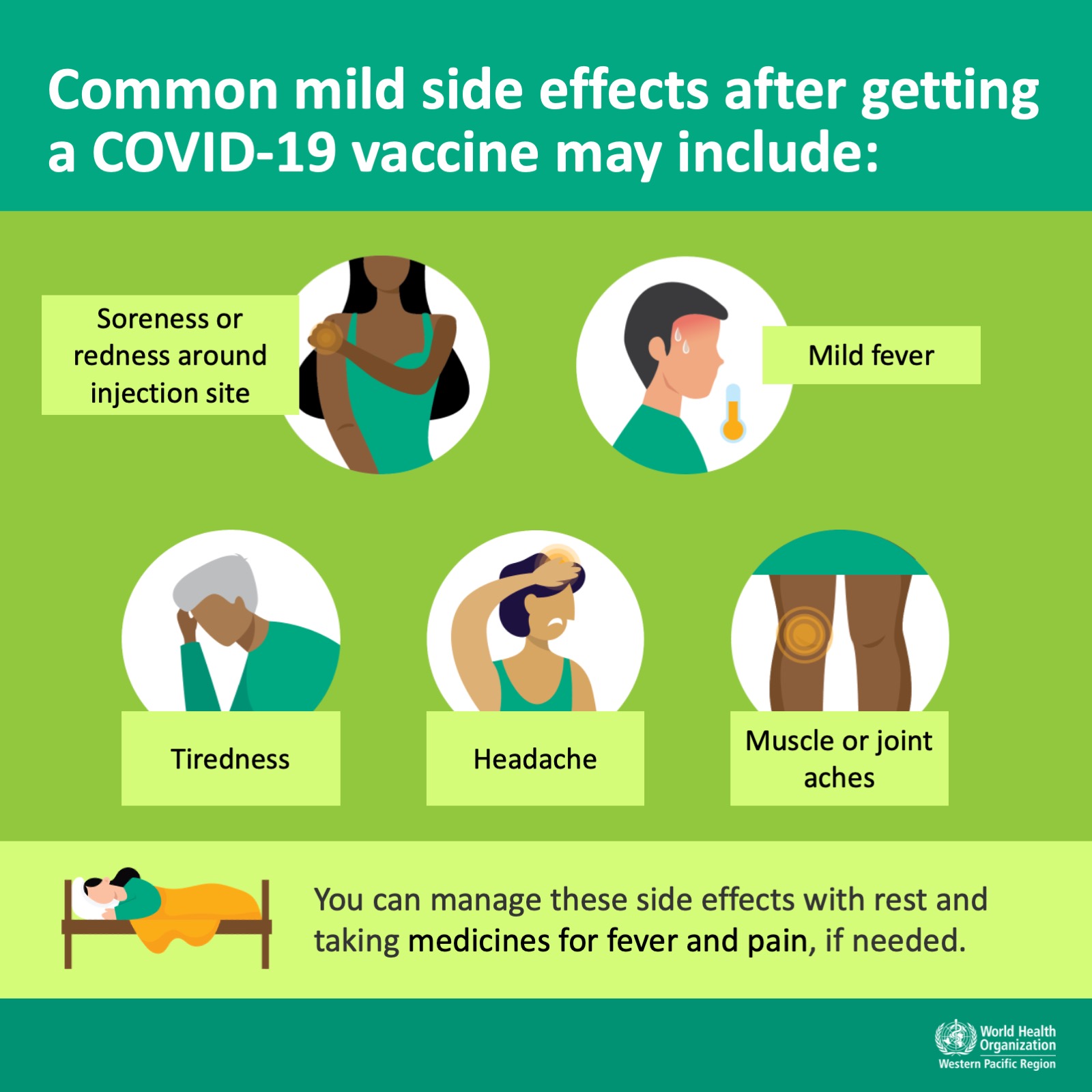 These side effects may affect your child's ability to perform daily activities, but they should go away in a few days. Some people have no side effects.
It is not recommended that you give pain relievers before vaccination for the purpose of trying to prevent these side effects.
Are there specific concerns for children getting COVID vaccines?
· A potential link between the Pfizer vaccine and heart inflammation — conditions called myocarditis and pericarditis — has emerged since Israel and the United States began vaccinating young people. However, researchers have yet to establish that the vaccine caused the inflammation. Most of those affected have recovered, and the data suggest that the risk of these conditions is "extremely low", says paediatrician David Pace at the University of Malta in Msida — about 67 cases per million second doses in adolescent males aged 12–17, and 9 per million in adolescent females in the same age group.
· CDC and its partners are actively monitoring reports of myocarditis and pericarditis after COVID-19 vaccination. Active monitoring includes reviewing data and medical records and evaluating the relationship to COVID-19 vaccination.
What is myocarditis? It is an inflammation of the heart muscle, whereas pericarditis is the inflammation of the outer lining of the heart. In both cases, the body's immune system causes inflammation in response to an infection or some other triggers.
Both myocarditis and pericarditis have the following symptoms:
Chest pain
Shortness of breath
Feelings of having a fast-beating, fluttering, or pounding heart
Seek medical care if your child has any of these symptoms, especially if it's within a week after COVID-19 vaccination.
Most patients with myocarditis or pericarditis who've received care responded well to medication and rest and felt better quickly.
Patients can usually return to their normal daily activities after their symptoms improve.
Should I Still Get My Child Vaccinated?
Yes. CDC continues to recommend that everyone aged 12 years and older gets vaccinated for COVID-19.
The known risks of COVID-19 illness and its related, possibly severe complications, such as long-term health problems, hospitalization, and even death, far outweigh the potential risks of having a rare adverse reaction to vaccination, including the possible risk of myocarditis or pericarditis.
If your child has already gotten the first dose of the Pfizer-BioNTech vaccine, it's important to get the second dose.
https://youtu.be/yd5tV-SoCeo (Interesting 9 minutes fast fact video on myocarditis, COVID and COVID vaccines)
Remember, all of us must continue to follow COVID-19 SOPs even after vaccination.
Let us all continue adopting the 3W approach by avoiding 3S or 3C, that is, stay away from crowded areas, avoid confined spaces and avoid chatting or talking at close range (close conversation) as a new habit in daily life to control the spread of COVID-19. Director -General of Health, Tan Sri Dr Noor Hisham Abdullah said the reminders included avoiding shaking hands and touching, practicing the etiquette of coughing and sneezing, seeking immediate treatment if symptoms occur, staying at home, and avoiding the practice of visiting. By doing so, people at high risk such as children, infants, the elderly, and the disabled (OKU) shall be protected.