Adventist Clinical Pathology Lab Services and Blood Bank was established in October 2003 and has been helping the healthcare providers to advance patient care, strengthening their practice and broadening their access to routine and specialised testing.
We participate in a variety of external quality assurance programmes and received the Verification of Sigma-metric Performance by Westgard QC, Inc. in October 2015 in achieving validation of the instrument performance. It highlights our commitment to provide high quality, state-of-the-art, timely and cost-effective services.
Our team of visiting pathologists, visiting Microbiologist and medical technologists work in close collaboration with the healthcare providers for optimal patient care.
In 2018, we received averagely 31,000 samples and performed 151,000 tests, per month.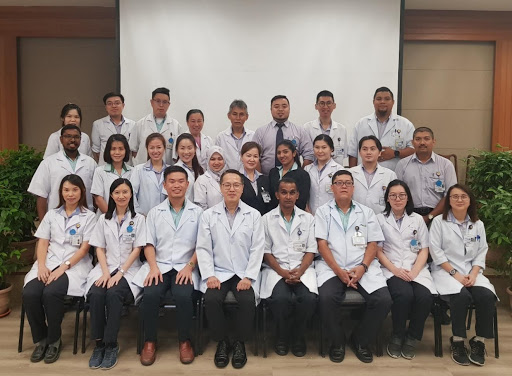 Our team of Adventist Clinical Pathology Lab Services and Blood Bank
For any inquiry and further information, please kindly contact:
Mr Loh Hong Huat, BSc MLT (NYMU), MIMLS (Mal)
Laboratory Manager
Telephone: +604 222 7318
Email: lohhonghuat@pah.com.my
---
Clinical Biochemistry
The Abbott ARCHITECT ci8200 combines the ARCHITECT c8000 and the ARCHITECT i2000SR to provide clinical chemistry and immunoassay testing in a single integrated system.
The ARCHITECT ci8200 offers a maximum throughput of up to 1400 tests per hour, including 1200 clinical chemistry and 200 immunoassay tests. Featuring a load-up capacity of 365 samples with 35 priority positions, the ARCHITECT ci8200 has up to 146 refrigerated reagent positions plus Integrated Chip Technology (Na+, K+ and Cl-).
Our laboratory provides a wide range clinical biochemistry tests, which include liver function test, kidney function test, cancer markers, fertility hormone, thyroid function test, cardiac enzymes, iron study, vitamin D, infectious disease, glucose, lipid and more.
We participate in Bio-Rad EQAS External Quality Assessment Programme for Clinical Chemistry. This programme is a system for objectively checking the laboratory's performance using an external agency or facility.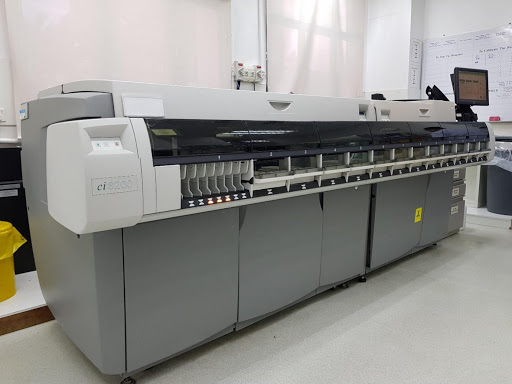 ARCHITETC ci8200 (2 UNITS)
---
Haematology
The CELL-DYN Sapphire offers a maximum throughput of up to 105 complete blood counts (CBCs) per hour. In addition to the traditional CBC, CELL-DYN Sapphire offers an expanded test menu that enables our medical technologists the flexibility to handle a breadth of samples and specialty tests.
Our laboratory provides several haematology tests, which include complete blood count, erythrocytes sedimentation rate, peripheral blood film, G6PD testing and reticulocytes count.
We participate in the Bio-Rad EQAS External Quality Assessment Programme for Haematology. This programme allows for the comparison of a laboratory's testing to a source outside the laboratory. This comparison can be made to the performance of a peer group of laboratories or to the performance of a reference laboratory.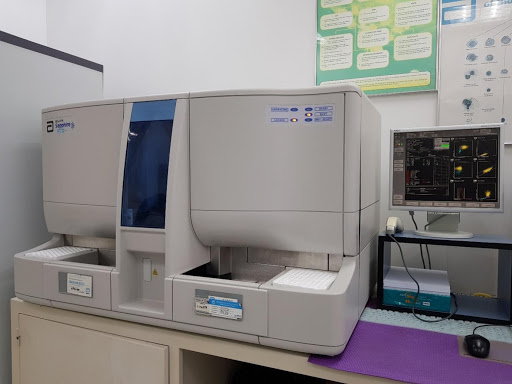 CELL-DYN Sapphire
---
Serology
ACL TOP 300 is a fully automated, benchtop, random-access analyser, designed specifically for in vitro coagulation and fibrinolysis diagnostic testing in the assessment of thrombosis and haemostasis. It operates continuously with high throughput, which is up to 360 PT results per hour.
Our laboratory provides various serology tests, include but are not limited to, coagulation study, dengue fever (NS1 Ag, IgG and IgM) test, Helicobacter pylori test, Mycoplasma pneumoniae IgM test, anti-Streptolysin O antibody test, Rapid Plasma Reagin (RPR) test and Chikungunya IgM/IgG test.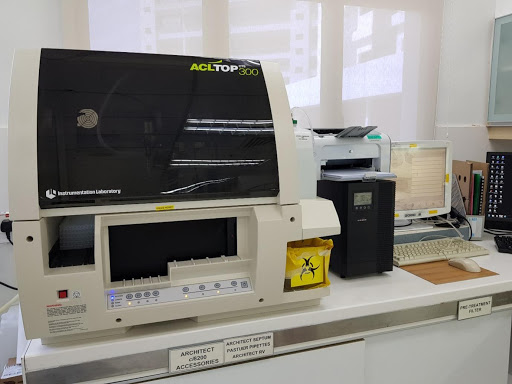 ACL TOP 300 for coagulation study
---
Urinalysis
The UX-2000, a bench-top analyser that takes on the complete urine screening process. It incorporates the two common testing methods in urinalysis, i.e. dry chemistry test strips and particle analysis using fluorescence flow cytometry. It offers a maximum throughput of up to 150 samples per hour.
Apart of the routine and common urinalysis tests, our laboratory provides a number of other tests, i.e. faecal occult blood, urine pregnancy test, 24 hours' urine test, Rotavirus and Adenovirus screening, urine cannabinoids and morphine test, ova and parasites microscopic examination, urine albumin/creatinine ratio.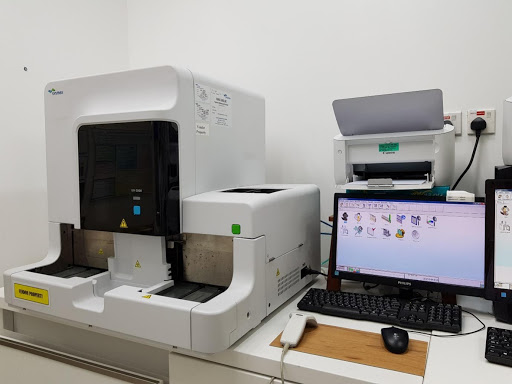 UX-2000 (2 UNITS)
---
Microbiology
The VITEK 2 Compact 30 provides fast, accurate microbial identification and antibiotic susceptibility testing. This innovative microbial identification system includes an expanded identification database, which provides greater automation while increasing safety and eliminating repetitive manual operations. We participate in the RCPA Quality Assurance Programme in Microbiology.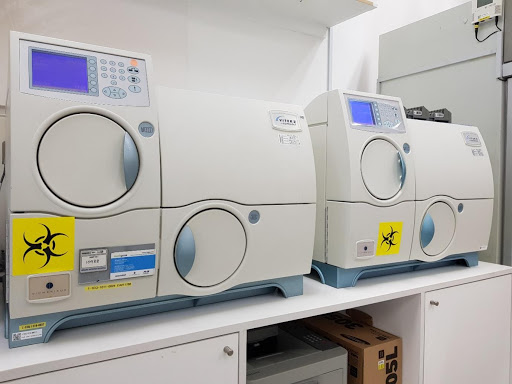 VITEK 2 Compact 30 for microbial identification and antibiotic susceptibility testing
GeneXpert is the first molecular Real-time PCR machine that we have introduced in our Lab in year 2018. We started with the screening of MTB-RIF, then we further expend the range to MRSA screening, HPV DNA screening, HIV-Qualitative test and HIV-viral load testing.
In year 2019, another molecular platform, Qiastat Syndromic testing, with respiratory panel and gastrointestinal panel, was introduced to our end user. This enables us for the screening of 21 to 24 pathogens at one go, which included bacterial, viral and parasitic, in less than 2 hours.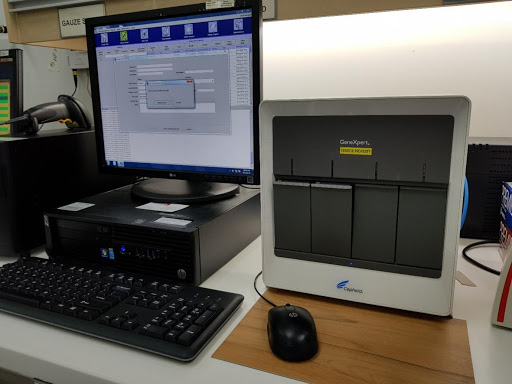 GeneXpert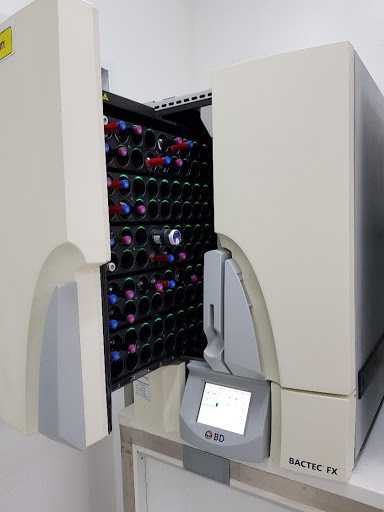 BACTEC FX for blood culture
Our visiting Consultant Clinical Microbiologist:
Dr Tan Rui Xin
MB BCh BAO (NUI), MPath (UM)
---
Blood bank
The IH-1000 is a fully automated system for immunohaematology. With its features of high- throughput, continuous sample and reagent loading, this stand-alone and easy-to-use instrument has the volume capacity of 180 samples, 240 ID-Cards and 28 reagents vials.
On the other hand, our laboratory is also equipped with IH-500, which is designed as a compact bench-top system and requires minimal workspace whilst providing maximum workflow optimisation.
Our laboratory provides a variety of immunohaematology tests, which include ABO/D blood grouping with reverse, Rh/K phenotyping, red cell antibody screening, direct AHG test (DAT) and crossmatching.
We participate in the American College of Physicians (ACP) Medical Laboratory Evaluation (MLE) in Blood Bank.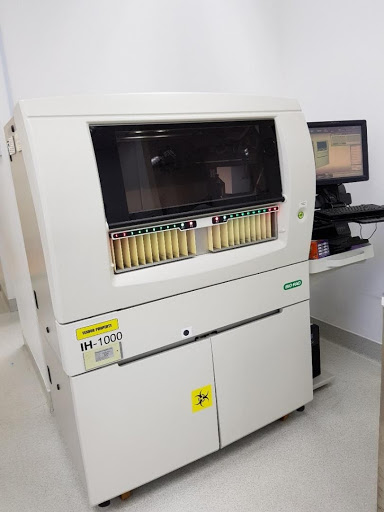 IH-1000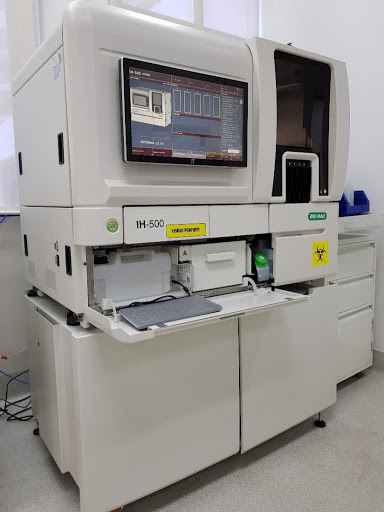 IH-500
---
Blood Donation
Our blood bank is a holistic centre, from donor procurement, screening, storage, crossmatching to patient's transfusion. As we actively promote and raise the awareness that individuals can save lives and improve the health of others by donating blood, our centre provides whole blood donation facility to the public.
Our centre also actively collaborates with the regional corporates, educational institutions and NGOs in conducting blood donation campaign. Blood donation time is stated as below. As a complete blood donation process may take up to 45 minutes, thus we encourage blood donor to arrive 30 minutes earlier before the closing. For any enquiry and arrangement for blood donation campaign, please kindly contact:
Mr Wang Pack Yee
MMedSc Path (CSturt), MSc Transfusion (USM), Specialist Cert (UK)
Transfusionist
Telephone: +604 222 7310
Email: wangpackyee@pah.com.my
---
Histopathology and Cytopathology
We have our visiting pathologist, Dr. Krishnan, with us, since 2018.
Those services or special test that not available in-house will be referred to those reputable referral center such as Pantai Premier Lab, Clinipath, BP lab, Gribbles, DNA lab and Genomix Lab.
Operation Hours
24 hours emergency service is available upon request.
| | |
| --- | --- |
| Monday-Thursday | 8:00am - 5:00pm |
| Friday&Sunday | 8:00am - 1:00pm |
| Saturday | (closed) |